It is easy to come to Nice, it is also easy to get around.
The city of Nice is a human-scale city where it is possible to get around, mostly on foot. Transport facilities provide an optimal service.
From its international airport, just a few kilometres from the city centre, to the complementary nature of the various modes of transport (road network, TGV, bus, tramway, taxi, or blue bikes), Nice combines attractiveness and connectivity.
Tramway
There are 3 tramway lines in Nice
Line 1
Line 1 provides a north/east link via the city centre via Avenue Jean Médecin and Place Masséna and allows you to travel 21 hours a day! Monday to Sunday from 4.25am to 1.35am… 22 stations and a tram every 4 minutes.

Line 2
Line 2 provides a 17-station west-east link from the airport (as soon as you leave the terminals) to Port Lympia, passing through the city centre (Jean Médecin station – connection with line 1).
Tram 2 runs every day except May 1st, from 04:05 to 00:35, every 8 minutes or so (Airport to Port Lympia direction) and from 04:45 to 01:15 (Port Lympia to Airport direction).
The total travel time from the Airport to Port Lympia is 30 minutes.

Line 3
Line 3 provides a link between the airport and Saint-Isidore in 11 stations, passing by the Allianz Riviera Stadium.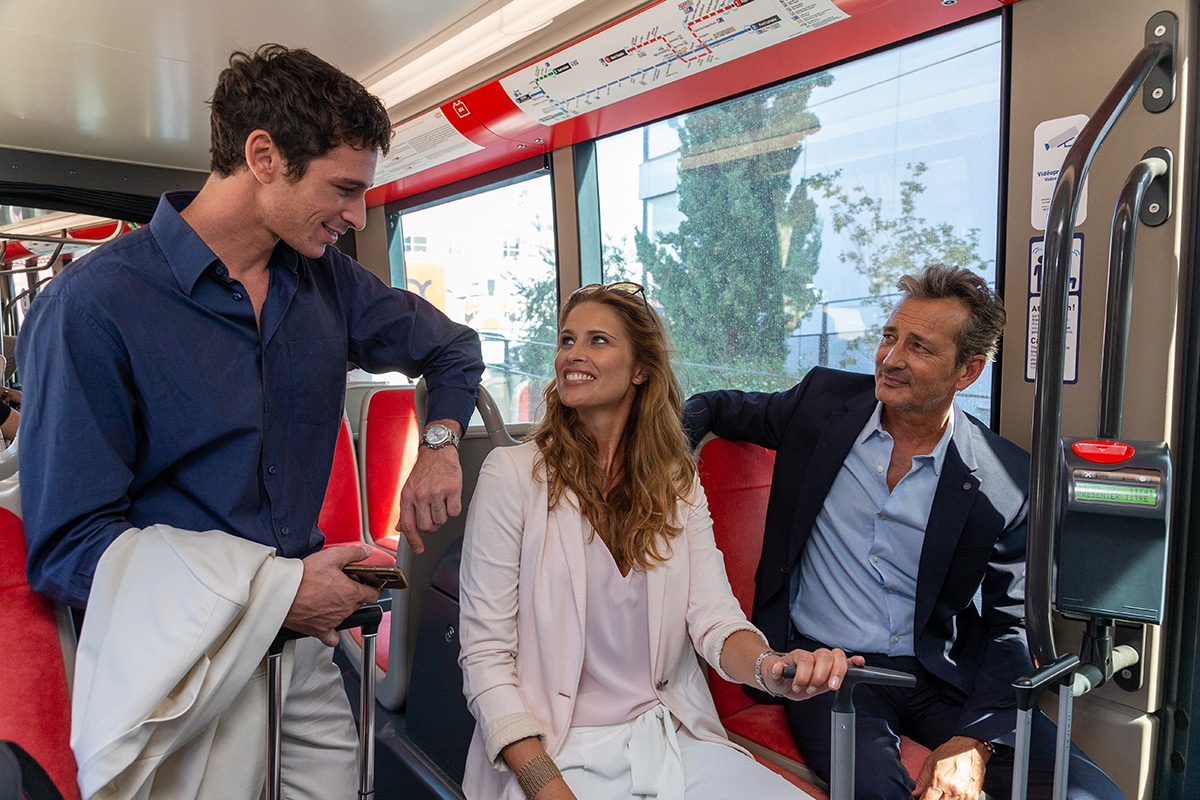 Practical
A single bus/tram ticket with numerous connections.
The Solo ticket for a 74-minute journey with connections costs €1.50 and there are various types of tickets for occasional travel: Multi 10 journeys, 1-day pass, 7-day pass, Parcazur (outward/return), TicketAzur and "à la Carte" subscriptions.
To find out more about the tramway in Nice: www.lignesdazur.com
–> Good to know: There are no ticket sales on board the tramway. Don't forget to validate your ticket each time you get on.
---
Bus
The urban bus network, which is particularly dense in Nice, provides regular services to all districts of the city and the Nice Côte d'Azur metropolitan area.
For more information about the network and bus timetables: N° Azur 08 1006 1006 (Monday to Saturday – 7am to 8pm Sunday – 8am to 6pm)
Espace Mobilités (Métropole network – bus and tramway) – 33 Bd Dubouchage
Open Monday to Friday from 7.30am to 7pm and Saturday from 8.30am to 3pm
https://www.lignesdazur.com/agences-points-de-vente
A single bus/tram ticket with numerous transfer points
The Solo ticket for a 74-minute journey with connections at €1.50 and various types of ticket for occasional travel: Multi 10 journeys, 1-day pass, 7-day pass, Parcazur (outward and return), TicketAzur
---
Bike
A different way of experiencing the city
Nice offers an alternative self-service bicycle transport service. 161 stations spread out between Nice, Cagnes-sur-Mer and Saint-Laurent du Var (one station every 300 m) make 1,300 bicycles available to you, 365 days a year, 7 days a week and 24 hours a day.
To know: how to use your blue bike?
You can quickly collect your Blue Bike at one of the many terminals scattered around the city using a bank card. You can return it after use at any of the city's stations.
The cost of using the service is made up of the cost of the right of access and then a cost of use according to the duration of the rental. Rates for occasional users: free up to 30 minutes – €1 between 30 minutes and 1 hour – €2 per additional hour.
Blue Bike (Vélo Bleu) also exists in an e.Vélobleu version (with electric impulse)
Two hundred electric bicycles are available in free floating (i.e. the e-vélobleu can be dropped off anywhere, as long as they are on a two-wheeler space) in Nice, Saint-Laurent-du-Var and Cagnes, thanks to the E-Vélobleu service. The application helps to locate them. Autonomy: 60 kilometres – Users must use the E-Vélobleu mobile application which allows them to unlock the two-wheelers via Bluetooth.
Rental rates for occasional users: €3 access fee for the day, then free for the first thirty minutes of use, then €1.50 per half hour.
---
Car-sharing vehicle
Discover Nice Côte d'Azur more serenely and ecologically by opting for car-sharing vehicles.
---
Taxis
To complete its transport offer, Nice Côte d'Azur also has taxis at your disposal day and night.
Taxis will issue a receipt on request.
This receipt indicates: the vehicle registration number, the date, the point of departure and arrival and the amount of the journey. More information
Some convention organisers can provide convention delegates with a free Transport Pass, valid for the duration of the event. Please check with the organiser of your convention.