Nice, ranked 1st green city in France!
October 11, 2023
Nice is ranked France's leading green city with a population of over 200,000 by KERMAP, which analyses satellite data on tree cover (33%) and the area planted with trees per inhabitant (53m2).
In March 2019, the City of Nice launched a vast greening plan, having already developed 33 hectares of greenery since 2008, created 16 new parks and gardens as well as 7 community gardens and around a hundred educational gardens.
Since then, Nice has greatly increased its tree planting: since 2021, the city's green spaces have planted 77,227 new trees! (Figures as at 16 June 2023).
At the end of 2021, Nice was voted top of the list of France's greenest cities by Lelynx.fr, out of a panel of 85 cities.
More vegetation than the national average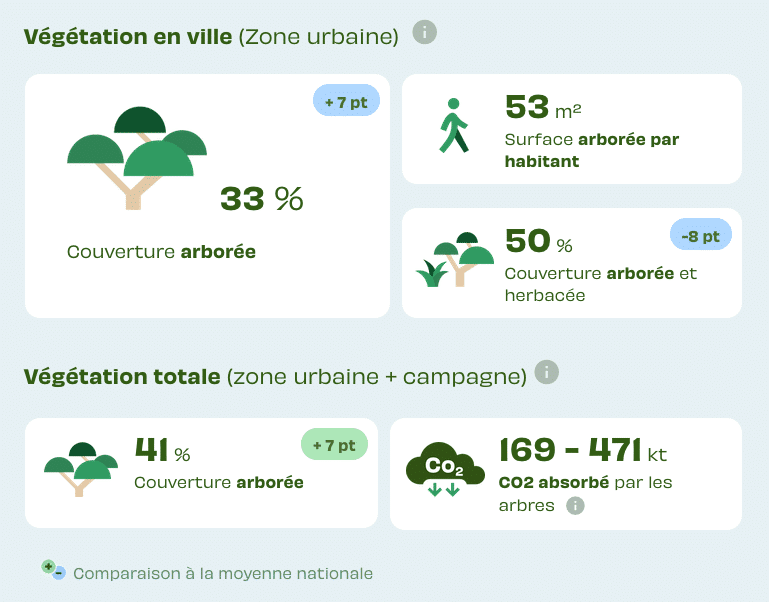 The city of Nice is pursuing its commitment to ecological transition through the renaturation and planting of trees, with a target of one tree for every inhabitant by 2026.
The plan is to create 70 new hectares of cool areas. Nice will remain the greenest city in France, with 280,000 trees planted by 2026!
Extension of the Promenade du Paillon
Just 10 years ago, in October 2013, the Promenade du Paillon came into being. A 12-hectare ribbon of green right in the centre of the city (photo on cover), this area welcomes thousands of visitors every day. The reclaiming of greenery from concrete continues with the extension of this vast garden to the north. Eventually, in 2025, the area will be extended by 8 hectares, for a total of 20 hectares, with the planting of a further 1,500 trees of species that are adapted to our climate, consume little water, provide good shade and have a high CO2 storage capacity.